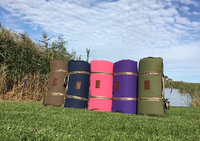 Our Story
Candy Canvas started in 1991 manufacturing high quality Australian made swags. I worked for Phil and Sandy Candy for 11 years and have sown all their canvas products, in the last 5 years mainly concentrating on swag making. Phil and Sandy decided to retired and in November 2015 I started making The Candy Canvas swags from our farm shed. We are now trading as CC Swags as they are well known for their comfort and durability.
CC Swags are made with high quality workmanship, Australian made canvas and materials. Our single swags come in two designs, a Deluxe and Tropical. Also available our Double Swags, Bike Swags and Joey Swags for children.
We also do custom work, and have supplied luxury swags for "Longitude 131", Uluru. We supplied our Tropical Swags to Northern Peninsula Area Regional Council, Bamaga, Qld.
Contact Details
Jane Bonsor
Phone: 0428 328 008
Email: ccswags@outlook.com
Tintinara, SA, 5266
Available anytime including weekends